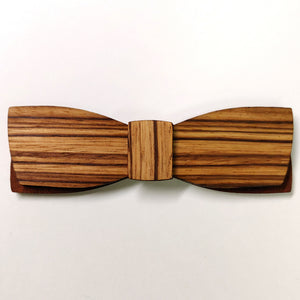 Zacchaeus
Sale price Price $ 35.00 Regular price
Zacchaeus - Specialty Zebrawood Bow Tie
The Zacchaeus is part of our Specialty Wood collection the is created out of a very distinct and unusual zebrawood. This extraordinary wooden bow tie will get you noticed and remembered.
This custom bow tie is part of the Slim Collection. Bow ties from this collection use the Straight (a.k.a Batwing) shape style – this shape is thin and symmetrical, which makes for a sleek, clean impression.
Zebrawood is a light brown or cream color with dark blackish brown streaks resembling a zebra's stripes. The stripes can be either chaotic and wavy (flatsawn), or somewhat uniform (quartersawn). Zebrawood has a fairly coarse texture and open pores with a grain that is usually wavy or interlocked.
Approx. 1.5" tall, 4.5" wide, .5" thick. All our adult size ties come with an adjustable tuxedo strap, fitting 13" - 24" in diameter.