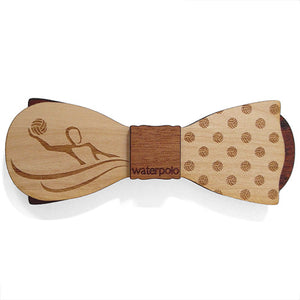 Waterpolo - Club Round
Sale price Price $ 35.00 Regular price
Waterpolo - Cherry and Mahogany Wood Bow Tie
This club round style tie is created especially for our water polo playing friends. The cherry wood shows off the engraved logo on the left and water polo balls on the right, the dark mahogany helps highlight the wonderful dimensional design.
This custom bow tie is a part of the Club Round Collection. This collection uses the Rounded shape style – reminiscent of white-tuxedo casino dress, this nontraditional style has unique rounded ends, and is quickly becoming one of the most popular styles.
Cherry is our favorite wood to engrave. Wood bow ties made from cherry have good contrast, so we use cherry for bow ties with intricately engraved designs. The great contrast and naturally large grain of cherry means that these bow ties are highly recognizable.
Approx. 1.75" x 5". All our adult size ties come with an adjustable tuxedo strap, fitting 13" - 24" in diameter.