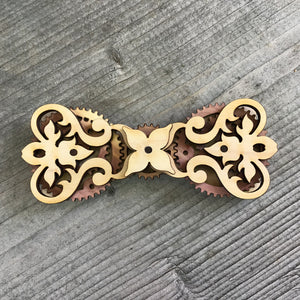 Viktor - Maple
Sale price Price $ 65.00 Regular price
Viktor - Steampunk Design, Maple and Red Oak, Moving Gear Wood Bow Tie
Viktor is part of our wonderful kinetic wooden gear ties. Though basically a 'club round' shape, the focus is on the moving gears and the Victorian steampunk style.
Maple is one of the lightest and brightest woods. Wood bow ties made from maple have a brighter finish and a wide, less distinct grain, so we use maple for bow ties with engravings that demand lighter coloration.
Red Oak is a lighter wood with a red tone and smaller grain. We use red oak for bow ties with big, bold designs that rely on outstanding shapes.
This custom bow tie is a part of the Club Round Collection. This collection uses the Rounded shape style – reminiscent of white-tuxedo casino dress, this nontraditional style has unique rounded ends, and is quickly becoming one of the most popular styles.
Approx. 1.75" x 5". Comes complete with adjustable strap. All our adult size ties come with an adjustable tuxedo strap, fitting 13" - 24" in diameter.