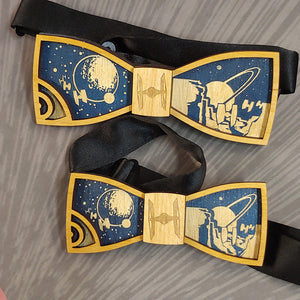 Tionne Adult & Kids Set
Sale price Price $ 65.00 Regular price
Kids  & Adult Tionne - Fandom Alder & Birch Wood Bow TIE Tie
This 'modern' bow tie is not for the faint of heart, and will not be mistaken for an old fashion bow tie. Tionne is a space design, and is created in alder wood and painted birch.

This custom bow tie is a part of the Classic Collection. This collection uses the classic bow tie shape – it's perhaps the style that most people are familiar with, which means a bow tie with this cut can be used for any occasion.
Birch is a light wood with a rough finish and grain, so it makes for a wonderful partner wood. We use birch for those wood bow ties made that rely on sharp contrast to stand out.
Our smaller "wee" ties are approx 1.25" tall and 3.5" wide. The adjustable strap fits smaller necks 7" - 14" in diameter.