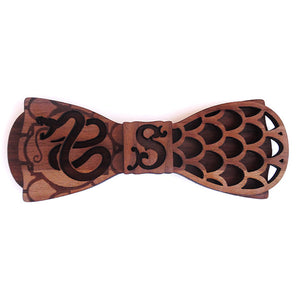 Slither
Sale price Price $ 35.00 Regular price
Slither - Wizard Heraldry, Walnut Wood Bow Tie
Slither is a snake themed tie, cut out of deep walnut wood. Yes we did create it with a certain house in mind, but can also double as a mascot accessory.
This custom bow tie is a part of the Club Round Collection. This collection uses the Rounded shape style – reminiscent of white-tuxedo casino dress, this nontraditional style has unique rounded ends, and is quickly becoming one of the most popular styles.
Walnut is one of our darkest woods. Not only can it be laser-engraved to wonderful effect, we also love to use its natural darkness as a contrast for lighter woods and to show off the great shape of our unique bow ties.
Approx. 1.75" x 5". All our adult size ties come with an adjustable tuxedo strap, fitting 13" - 24" in diameter.