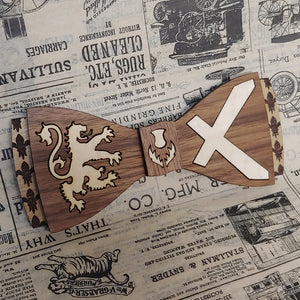 Saltire
Sale price Price $ 35.00 Regular price
Saltire - Maple, Walnut & Birch Wooden Scottish Design Bow Tie
Created especially in honor of our Scottish heritage and festival goers, this design incorporates many icons including the Scottish flag x-shape cross & the thistle. It is so dapper, it absolutely kills with a kilts.

This custom bow tie is a part of the Thistle Collection. One of our larger shapes, this collection uses the Thistle or Big Butterfly shape style – this shape style is one of the largest and is mostly seen on bow ties used for lavish, fancy-dress occasions.
Maple is one of the lightest and brightest woods. Wood bow ties made from maple have a brighter finish and a wide, less distinct grain, so we use maple for bow ties with engravings that demand lighter coloration.
Walnut is one of our darkest woods. Not only can it be laser-engraved to wonderful effect, we also love to use its natural darkness as a contrast for lighter woods and to show off the great shape of our unique bow ties.
Natural Birch is a light plywood with a larger grain and brighter finish than regular birch. Wood bow ties made from natural birch have darker contrast, so we use natural birch for bow ties that are meant to show off pattern designs.
Approx. 2.25" tall, 5.25" wide, .5" thick. All our adult size ties come with an adjustable tuxedo strap, fitting 13" - 24" in diameter.