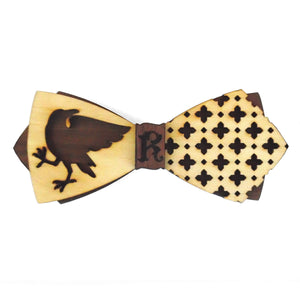 Raven
Sale price Price $ 35.00 Regular price
Raven - Wizard House Heraldry, Maple and Mahogany Wooden Bow Tie
The Raven is a diamond shape bow tie. The bow tie shapes are cut into the dark walnut, and bright birch woods. Part of our House Heraldry tie collection.
This custom bow tie is a part of the Diamond Collection. This collection uses the Diamond shape style – this distinctive style can be wonderfully asymmetrical, which makes for a striking design.
Birch is a light wood with a rough finish and grain, so it makes for a wonderful partner wood. We use birch for those wood bow ties made that rely on sharp contrast to stand out.
Approx. 2" tall, 5" wide, .5" thick. All our adult size ties come with an adjustable tuxedo strap, fitting 13" - 24" in diameter.