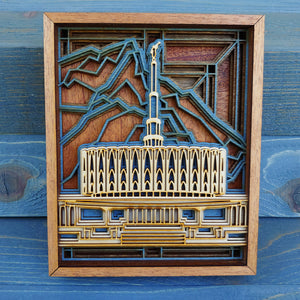 Provo Utah Temple Layered Wood Plaque
Sale price Price $ 124.90 Regular price
Provo Utah Temple Plaque
This multi-layer "mandala style" temple plaque is an original design. The detailed art piece is created out of 9 layers of laser-cut bright and stained birch, deep walnut woods with a total thickness just over 1".
This Provo Temple Wood Plaque design highlights the unique architecture of this temple, as well as the wonderful backdrop of Rock Canyon and the Wasatch Mountains

This unique piece of inspirational artwork makes a special gift for friends, newly weds and loved ones. It can be showcased in your home or office, hung on a  wall or displayed on a desk or shelf.

The Payson Utah Temple Layer Plaque has been created in 3 sizes. This custom laser cut design is gorgeous and durable and includes a wooden box for shipping and storage, though you will want to show it off in a prominent place.

Since Provo's early years, a hill just northeast of downtown Provo was known as "Temple Hill." Instead of a temple, however, the Maeser Building was built on the hill in 1911 as a part of the Brigham Young University (BYU) campus. A 17-acre block of property at the base of Rock Canyon was chosen as the site for the Provo Temple.
The intention to construct a temple in Provo was announced on August 14, 1967, and a groundbreaking ceremony was held on September 15, 1969, with construction beginning soon thereafter. Emil B. Fetzer, the architect for the Ogden and Provo temples, was asked to create a functional design with efficiency, convenience, and reasonable cost as key factors.