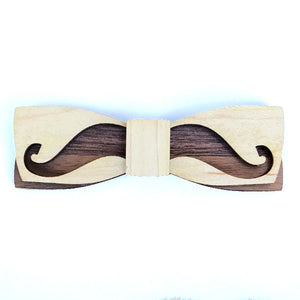 Poirot
Sale price Price $ 30.00 Regular price
Poirot - Maple and Mahogany Wood Mustache Bow Tie
Our Poirot is a design we have been pondering for quite a while. The wonderful bright maple wood combined with the deep grained walnut create a quite a striking, dapper look that will get noticed.
This custom bow tie is part of the Slim Collection. Bow ties from this collection use the Straight (a.k.a Batwing) shape style – this shape is thin and symmetrical, which makes for a sleek, clean impression.
Maple is one of the lightest and brightest woods. Wood bow ties made from maple have a brighter finish and a wide, less distinct grain, so we use maple for bow ties with engravings that demand lighter coloration.
Walnut is one of our darkest woods. Not only can it be laser-engraved to wonderful effect, we also love to use its natural darkness as a contrast for lighter woods and to show off the great shape of our unique bow ties.

Approx. 1.5" tall, 4.5" wide, .5" thick. All our adult size ties come with an adjustable tuxedo strap, fitting 13" - 24" in diameter.