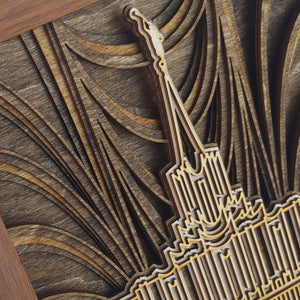 NEW DESIGN Creation for Layered Temple Wood Plaque
Sale price Price $ 175.00 Regular price
New Designs
If you need a design of a temple plaque not yet created, you can order it here.
Just add the temple name in 'Notes' in the shopping cart.
Allow 2 weeks for design completion to be ready for shipping, complete with storage box.
These multi-layer "mandala style" temple plaques are all original designs. Created to reflect the unique architectural details found in specific temples, to be inspiring, relaxing and mesmerizing.

These unique pieces of inspirational artwork make special gifts for friends, newly weds and loved ones. It can be showcased in your home or office, hung on a  wall or displayed on a desk or shelf.

"Establish a house, even a house of prayer, a house of fasting, a house of faith, a house of learning, a house of glory, a house of order, a house of God."