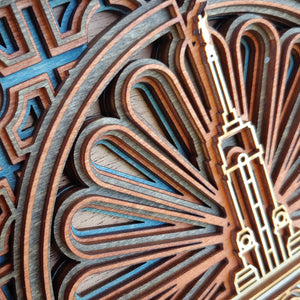 Mount Timpanogos Utah Temple Layered Wood Plaque
Sale price Price $ 124.90 Regular price
Mount Timpanogos Utah Temple Plaque
This original "mandala style" layered temple plaque is created out of 9 layers of laser-cut birch and stained birch wood, including and navy stained birch, and solid mahogany woods. Each layer is different than the one above and uses design elements that reflect the unique stained glass detail found in the temple, an effect that is relaxing and mesmerizing.

This unique piece of inspirational artwork makes a special gift for friends, newly weds and loved ones. It can be showcased in your home or office, hung on a  wall or displayed on a desk or shelf.

The Mount Timpanogos Utah Temple Layer Plaque has been created in 3 sizes. This custom laser cut design is gorgeous and durable and includes a wooden box for shipping and storage, though you will want to show it off in a prominent place.

The temple was announced on October 3, 1992. The land in American Fork previously used as a church welfare farm. The Mount Timpanogos Utah Temple overlooks the cities of American Fork, Cedar Hills, Highland and Alpine as well as nearby Utah Lake. Mount Timpanogos, a majestic 11,750-foot mountain peak, and the Wasatch Mountains serve as a backdrop.