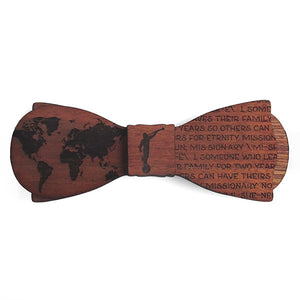 Missionary - Club Round
Sale price Price $ 35.00 Regular price
Missionary - Mahogany Wood Bow Tie
Missionary is a favorite 'club round' bow tie engraved beautifully into mahogany wood. The design includes an Angel Moroni, world map and a definition of a missionary.
This custom bow tie is a part of the Club Round Collection. This collection uses the Rounded shape style – reminiscent of white-tuxedo casino dress, this nontraditional style has unique rounded ends, and is quickly becoming one of the most popular styles.
Mahogany has a deeper, more vibrant color than walnut, and it has a small, straight grain. We use this dark wood for those unique bow ties that call for great contrast and bold patterns.
Approx. 1.75" x 5". All our adult size ties come with an adjustable tuxedo strap, fitting 13" - 24" in diameter.