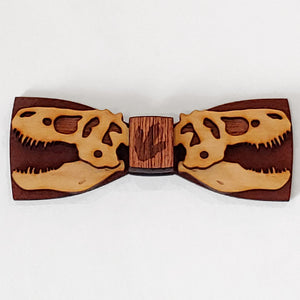 Kids T-Rex
Sale price Price $ 15.00 Regular price $ 20.00
Kids T-Rex, Dinosar Skull, Birch Wood Bow Tie
A kids or 'wee' version of a design inspired by a our friends at Reptile Adventures. This Tyrannosaurus Rex skull wood bow tie is created cut out of birch and mahogany woods. This is the epitome of #dangerouslydapper. Heck, the bottom jaw actually moves.

This custom bow tie is a part of the Modern Collection. Bow ties from this collection use the Classic shape style – as perhaps the style that most people are familiar with, this shape can be used for any occasion.

Birch is a light wood with a rough finish and grain, so it makes for a wonderful partner wood. We use birch for those wood bow ties made that rely on sharp contrast to stand out.

Mahogany has a deeper, more vibrant color than walnut, and it has a small, straight grain. We use this dark wood for those unique bow ties that call for great contrast and bold patterns.

Diverting and dapper!

Our smaller "wee" ties are approx 1.25" tall and 3.5" wide. The adjustable strap fits smaller necks 7" - 14" in diameter.