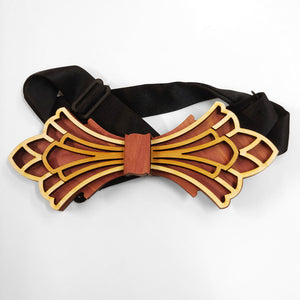 Despres
Sale price Price $ 40.00 Regular price
Despres - Art Deco Inspired Design, Maple, Alder & Red Cedar Wooden Bow Tie
Wonderful Art Deco inspired design wooden bow, 'Despres' is sleek and elegant, with solid lines and three wood different woods. Cut out of bright maple wood, with alder and the secondary wood, over a wonderful red cedar wood base.

Maple is one of the lightest and brightest woods. Wood bow ties made from maple have a brighter finish and a wide, less distinct grain, so we use maple for bow ties with engravings that demand lighter coloration.

Alder is a beautiful lighter wood. It's generally a medium color and is used to show off other wood, and engraves beautifully.

Red Cedar is a new favorite in the shop. The cedar wood is a reddish or violet-brown with few yellowy cream streaks and periodic with dark brown knots and, of course, that wonderful distinct fragrance. The red cedar adds a vintage touch to our wood family.

Approx. 2" x 5.25". Comes complete with adjustable strap. All our adult size ties come with an adjustable tuxedo strap, fitting 13" - 24" in diameter.