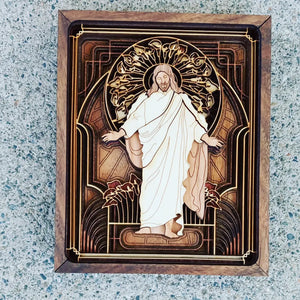 Christ: Consider the Lilies Wood Plaque
Sale price Price $ 64.90 Regular price
Christ: Consider the Lilies Wood Plaque
Artwork inspired by a dream, this representation of Christ is laser cut out of many layers of different woods including, walnut, maple, alder, birch and butternut.

The design depicts Christ among the lilies of the field as well as lilies as trumpets declaring the presence of Jesus Christ.
This design is another "mandala" type plaque with many layers that create a depth to the art deco graphic design.
Christ faithfully leads us through each day's concerns and challenges. His very presence emphasizes the importance of our obedience to God's word. "Toiling away out of fear for the future is not the same thing as God-glorifying labor" ("The Antidote to Worry"). God's Word looks out for our best interest. As we were created to honor Him, He faithfully guides us to the path of a full life in Christ. "There is scarcely any one sin against which our Lord Jesus more largely and earnestly warns his disciples," explains Matthew Henry's Commentary, "…than the sin of disquieting, distracting, distrustful cares about the things of life, which are a bad sign that both the treasure and the heart are on the earth."
https://www.ibelieve.com/faith/what-does-it-mean-to-consider-the-lilies-of-the-field.html