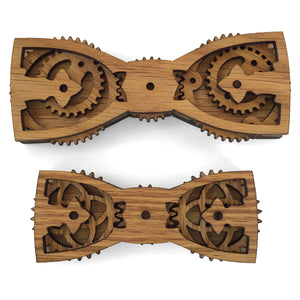 Wells and Kids Wells
Sale price Price $ 90.00 Regular price
Wells & Kids Wells  - Moving Gear, Red Oak Wood Tie Set
Happy Father's Day!

We have created a smaller version of our popular red oak gear tie. This big and little set is on sale now!
The Wells is a 'modern' shaped outline wooden bow tie, with wooden gears that actually work. Laser cut out of wonderfully grain red oak wood, and attached to an adjustable strap. You will quickly be the talk of your college engineering class.
This custom bow tie is a part of the Modern Collection. Bow ties from this collection use the Classic shape style – as perhaps the style that most people are familiar with, this shape can be used for any occasion.
These are not your old professor's bow ties.
Red Oak is a lighter wood with a red tone and smaller grain. We use red oak for bow ties with big, bold designs that rely on outstanding shapes.
Approx. 1.5" tall, 4.5" wide, and .5" thick. All our adult size ties come with an adjustable tuxedo strap, fitting 13" - 24" in diameter.
The smaller "wee" tie is approx 1.25" tall and 3.5" wide. The adjustable strap fits smaller necks 7" - 14" in diameter.