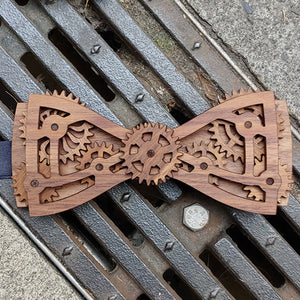 Maximus - Walnut Wood
Sale price Price $ 75.00 Regular price
Maximus - Seven Moving Wood Gear, Walnut Wood Bow Tie
Maximus is the latest design of our kinetic wooden gear tie collection. A wonderful diesel punk design with seven connected, working gears.
Walnut is one of our darkest woods. Walnut's rich grain and deep colors show off the great shape of our unique bow ties.
This collection uses the Thistle or Big Butterfly shape style – this shape style is one of the largest and is mostly seen on bow ties used for lavish, fancy-dress occasions. These bow ties use smart design, bold vintage patterns, and larger-than-normal size in order to invoke the style of the fashionable surgeon or CEO.
Approx. 2.25" tall, 5.25" wide, .5" thick. All our adult size ties come with an adjustable tuxedo strap, fitting 13" - 24" in diameter.