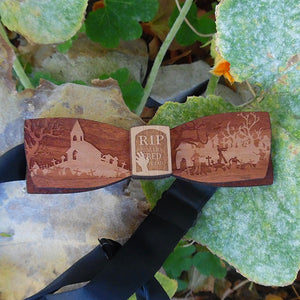 Moreland
Sale price Price $ 20.00 Regular price
Moreland - Creepy Graveyard Design, Cherry and Mahogany Wooden Bow Tie
In honor of one of our favorite scary movie actors Mantan Moreland, we present the Moreland. If you ever get a chance to watch 'King of The Zombies' on a dark windy night, take it!
This custom bow tie is part of the Slim Collection. Bow ties from this collection use the Straight (a.k.a Batwing) shape style – this shape is thin and symmetrical, which makes for a sleek, clean impression.

Cherry is our favorite wood to engrave. Wood bow ties made from cherry have good contrast, so we use cherry for bow ties with intricately engraved designs. The great contrast and naturally large grain of cherry means that these bow ties are highly recognizable.
Approx. 1.5" tall, 4.5" wide, .5" thick. All our adult size ties come with an adjustable tuxedo strap, fitting 13" - 24" in diameter.