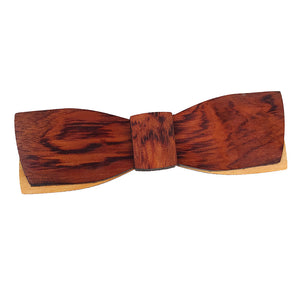 Bubinga
Sale price Price $ 35.00 Regular price
Bubinga - Specialty Bubinga Wood Bow Tie
The Bubinga is part of our Specialty Wood collection the is created out of a very distinctive Bubinga wood. This extraordinary wooden bow tie will get you noticed and remembered.
This custom bow tie is part of the Slim Collection. Bow ties from this collection use the Straight (a.k.a Batwing) shape style – this shape is thin and symmetrical, which makes for a sleek, clean impression.
Bubinga Heartwood, often referred to as "African Rosewood", is a pink, vivid red, or red brown with purple streaks or veins, on exposure becomes yellow or medium brown with a reddish tint, veining becomes less conspicuous; sapwood whitish and clearly demarcated.
Approx. 1.5" tall, 4.5" wide, .5" thick. All our adult size ties come with an adjustable tuxedo strap, fitting 13" - 24" in diameter.