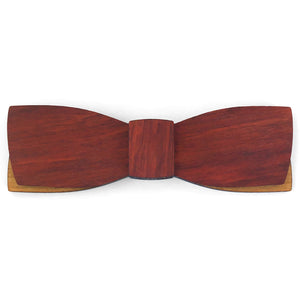 Blaed
Sale price Price $ 35.00 Regular price
Blaed - Blood-wood, Specialty Wooden Bow Tie
Part of our Specialty Wood collection the Blaed is created out of blood-wood and cherry. Beautiful and very eye-catching deep red wood is dark and mysterious and very sheik.
Bloodwood is generally a bright, vivid red, though the color will darken over time. The grain is usually straight or slightly interlocked, with a fine texture with good natural luster, and is also somewhat chatoyant. (What a word. chatoyant: showing a band of bright reflected light caused by aligned inclusions in the stone).
This custom bow tie is part of theSlim Collection. Bow ties from this collection use the Straight (a.k.a Batwing) shape style – this shape is thin and symmetrical, which makes for a sleek, clean impression.
Approx. 1.5" tall, 4.5" wide, .5" thick. All our adult size ties come with an adjustable tuxedo strap, fitting 13" - 24" in diameter.