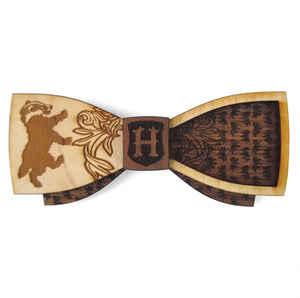 Badger
Sale price Price $ 35.00 Regular price
Badger - House Heraldry, Maple Wood Bow Tie
The Badger has the classic bow tie shape, with a strong modern outline, and badger imagery cut out of maple on a heraldry background engraved into luaun mahogany. Part of our House Heraldry tie collection.
Simple, yet stunning.
This custom bow tie is a part of the Classic Collection. This collection uses the classic bow tie shape – it's perhaps the style that most people are familiar with, which means a bow tie with this cut can be used for any occasion.n.
Maple is one of the lightest and brightest woods. Wood bow ties made from maple have a brighter finish and a wide, less distinct grain, so we use maple for bow ties with engravings that demand lighter coloration.
Approx. 1.75" x 4.5". All our adult size ties come with an adjustable tuxedo strap, fitting 13" - 24" in diameter.